The MedicalTourismLite take on Cuba was long overdue, mostly because all my time has been devoted to the interactive, although intermittent communication between the U.S. and Cuba for sister site: www.CME-Abroad.com Actually, this piece was written quite a while ago, but somehow it wound up a page, instead of a post. (Self-imposed editorial deadlines include the same guilt a wedding gift you meant to send that become priority.)
If you've read this far, you may be wondering what Cuba has to do with Medical Tourism but indulge the possibility that if – Obama somehow lifts the unfair Cuban Embargo, U.S. citizens will join the rest of the world already participating in Cuba's excellent healthcare, and benefiting from the healing powers of Cuban homeopathic medicines.
Whatever you've heard about legal travel to Cuba now, simply means that any travel agency can sell Cuba, NOT that you can book a hotel and explore on your own. You can spend several unsuccessful hours looking for the Cuban Visa online but a travel agency takes care of your visa, mandatory insurance, and other particulars.   You still need to keep on file – for the next 5 years – a detailed itinerary, corresponding to one of 12 Visa categories.
 Considering that the Biennial happens only every other year, I decided to put my own money on the table at a required local TSP (OFAC approved, Travel Service Provider) – under the Cultural People-2 -People category.
I promised a presentation about my Art Biennial trip to Cuba for a local travel Club.  I thought I'd share bits with you here before getting back to, "Medical Tourism Lite". Hope you enjoy the show.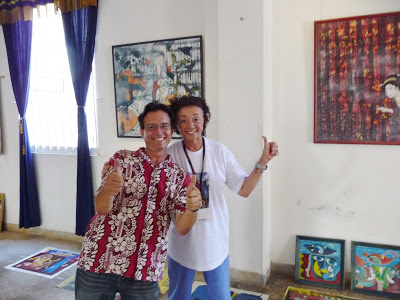 Before I left last year, I read that Cuba had been photographed to death, so I was determined to capture my unique POV.  Organizing thousands of photos took some time, but each one tells a different story. Now is a good time to try out my tiny pocket projector – before my next meeting with representatives of the Ministry of Health in Cuba, a Western Healthcare group, or interested patients worldwide.

The Realities of Traveling to Cuba

Departures from Florida to Cuba on Chartered Airlines requires forgiveness and cooperation because flights have been and will continue to be erratic. Considering that this airport was used to fly into Havana some 50 years ago, things can only change for the better once the airlines invest in new runways and expansion,
Cuba is an undoubtedly poor country, and the trip has been notoriously expensive for U.S. citizens. But, it was the only way for U.S. citizens to peek behind the curtain during these opening stages in the long forbidden, but not forgotten Cuba
American Airlines has added commercial flights and Jet Blue flies out of NY for $99.00 each way!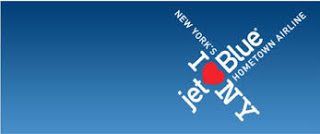 Alaska Airlines is scheduled to fly daily non-stops to Cuba from LAX beginning January 5, 2016. Below is the link to the story.  Click on the photo to connect directly with Alaska Air, but you will still need the visa license and insurance requirements taken care of before you leave home.
http://www.prnewswire.com/news-releases/alaska-airlines-will-fly-to-havana-cuba-beginning-jan-5-2017-300335370.html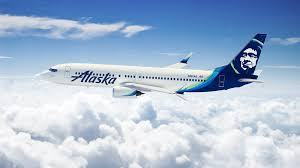 A FEW DAYS IN MIAMI

The last time I visited Miami was the late 60's when I stayed at the Fountainblu Hotel. I was 19 and remember sharing an evening elevator with Mohammed Ali,  He and his two giant white dogs had just finished a run.  Ali was young, strong, sweaty, and just as beautiful in person.  We admired each other for a few mellow minutes.  Obviously, I knew who he was.  Who didn't?  By this time, he had become our U.S. GOLD Olympic hero, Heavyweight Champion of the World, a Muslim, and a Draft Dodger.  I happen to have been gifted with great legs and was probably wearing, hot pants and go-go boots.  Oh yeah, those were the days…
Today, I'm in my 60's and preferred to ease into my journey to Cuba, and the climate.
My original plans included renting a car at the airport, but I was late in renewing my driver's license, and you can't rent a car without a Valid license, so my only options included the convenience of a central location, shuttles, and public transportation.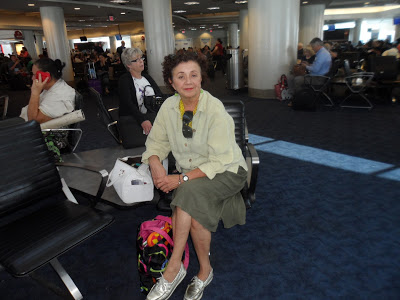 Spent a few days in South Beach, at the Chelsea Hotel, a moderately priced, funky, boutique hotel that runs parallel to the strip and offers a FREE Airport Shuttle.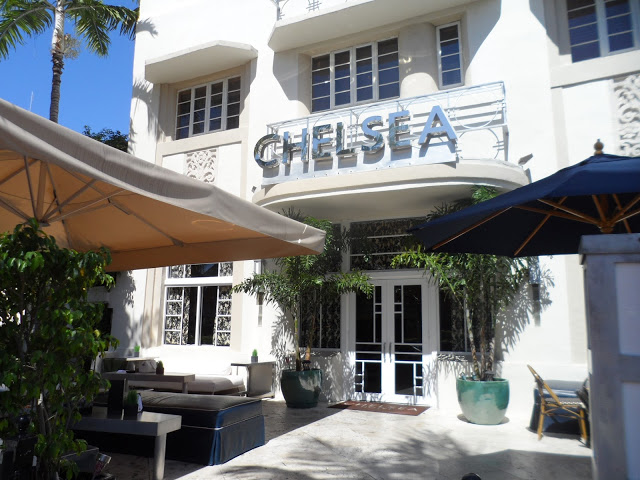 Once settled in, I made my way to the strip and the beach, which seemed so different from Santa Monica, California. … Once I noticed the astronomical parking fees, I was really glad to be walking.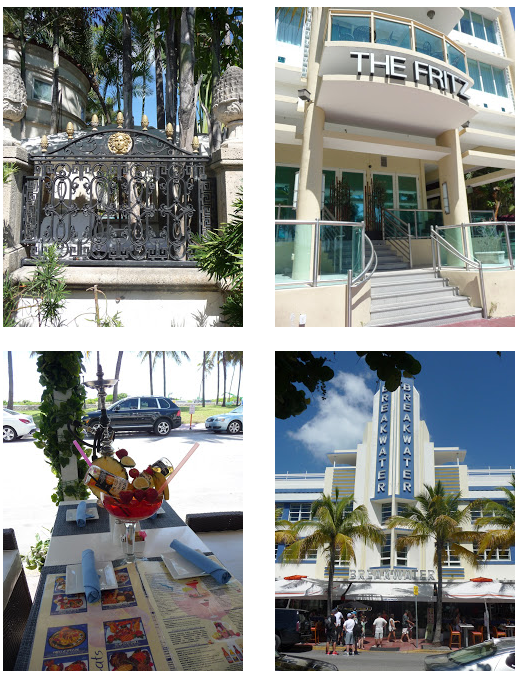 Happy watching the people go by during Happy Hour at the Urban Caban restaurant in the Espanola District.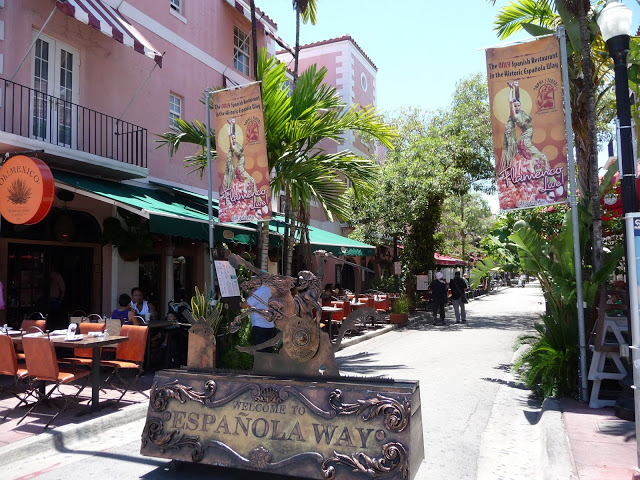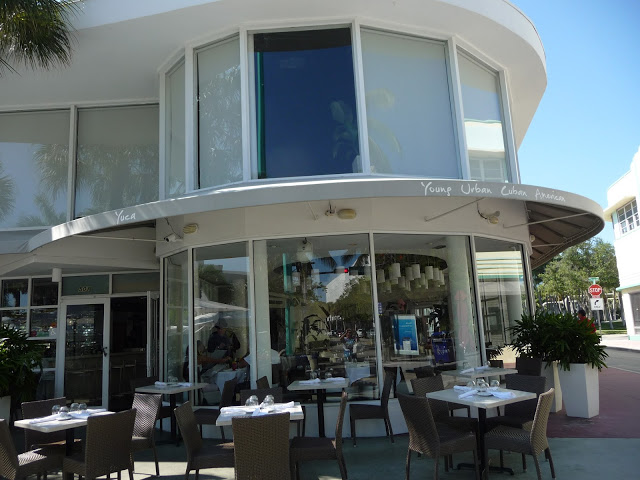 Lots of expensive tours abound; average prices about $60. for 2 days. Delighted to find the Pirate Duck Tour (for half price and twice the fun)  
http://www.miamipirateducktours.com/
The Pirate-Duck toured around town, then made it onto the water for a tour of the mansions on the private, posh waterways of Miami's Rich and Famous.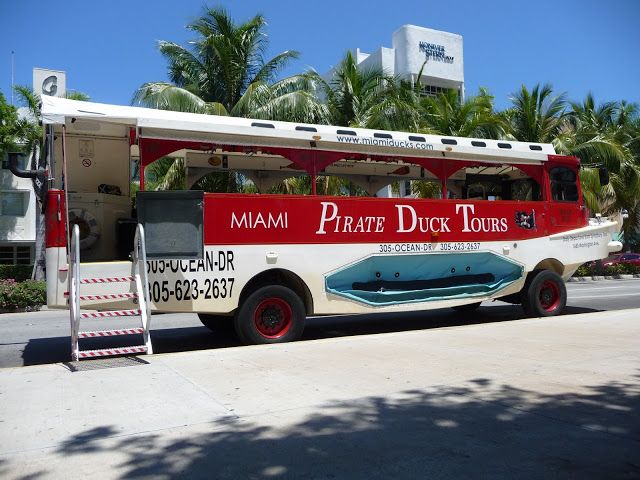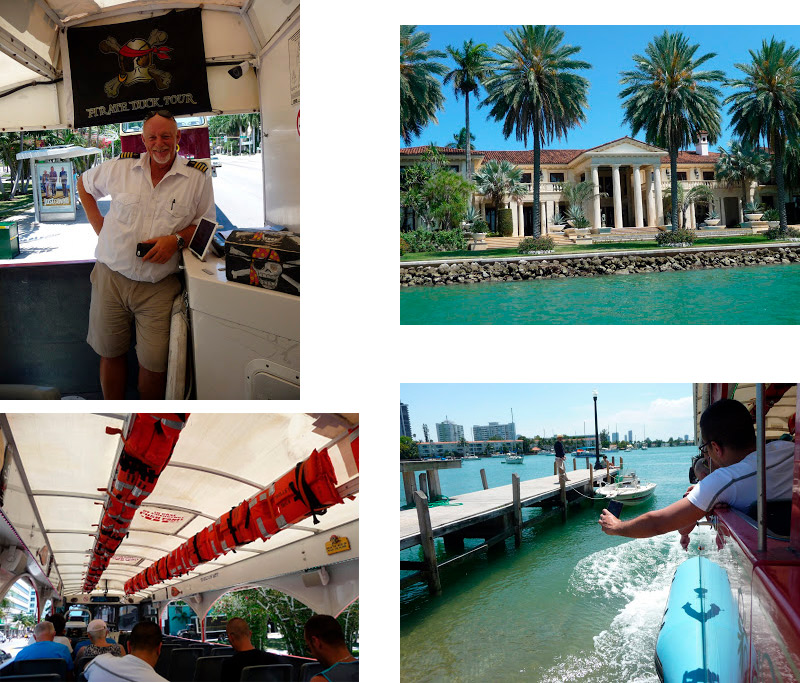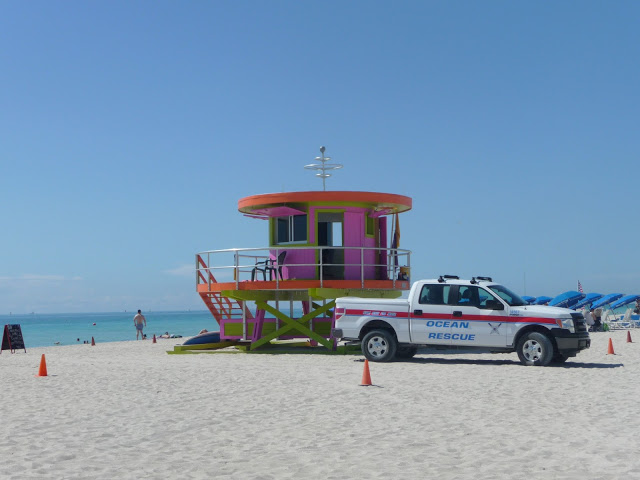 Wandering around South Beach, I stopped to talk about life on the other coast with the lifeguards.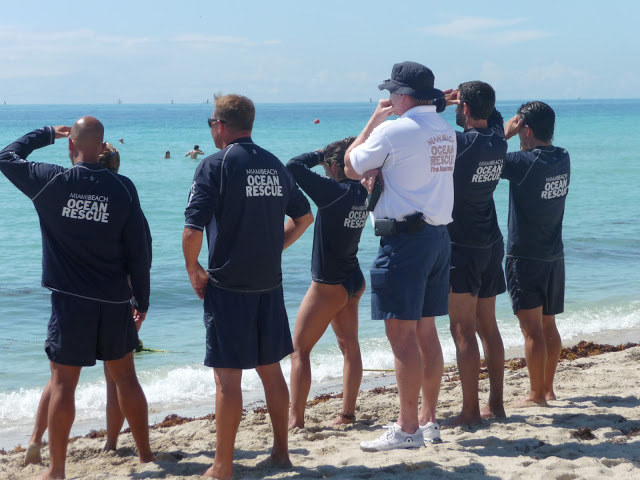 Back at the Chelsea, I learned about tomorrow's complimentary Happy Hour for guests. I picked up a bus schedule for tomorrow's lunch in Li'l Havana.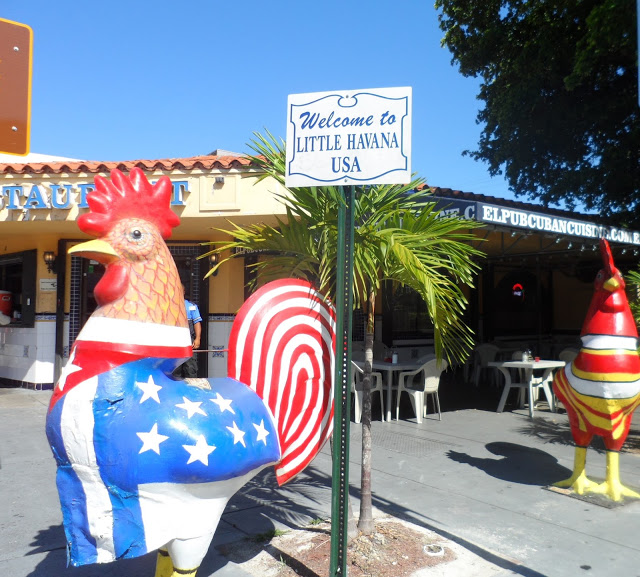 Ice cream and restaurants were calling out to me.  I stopped in one of the shops and asked where they eat.
He pointed to a large grocery store across the street, where I enjoyed one of the best lunches, ever.

I made my way to the food bar and requested a traditional Cuban meal. After admitting I didn't know a thing about Cuban cuisine and assuring the waitress that I ate pork, I left it in her hands and ordered a Cuban beer while waiting for this onion smothered chop cooked to perfection.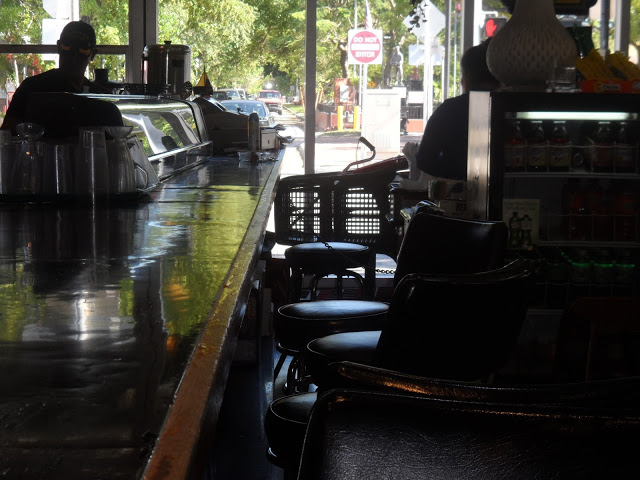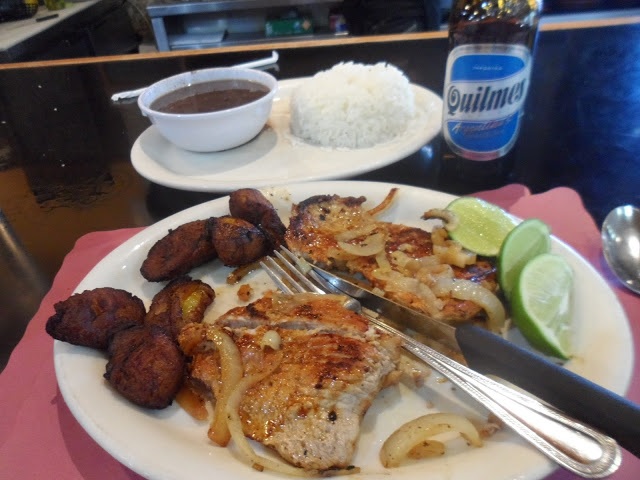 Once she heard I was on my way to Cuba for the first time, her sister-in-law joined in on the conversation and it became the warmest, and most entertaining company at any food bar at a grocery store, ever.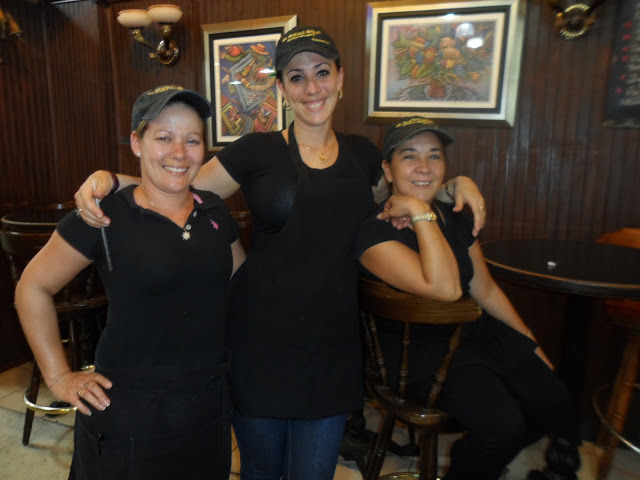 Hugs, kisses and assurances of good times in Cuba as they waved goodbye. I had to take a picture. This was just my first experience with the unforgettable warmth and charm of the Cuban people.

HAVANA

The National vs. the Capri – Although the grand driveway at the National Hotel is prominently visible, and just a short block away, our group stayed at the Capri, a Cuban/Spanish co-venture. The rooms at the Capri were comfortable enough, – once the air-conditioner was re-set, which took hours…but finally fixed, "No prolen." The rooftop pool at the Capri, offers views of the city and a choice of bars and restaurants inside and out, open late.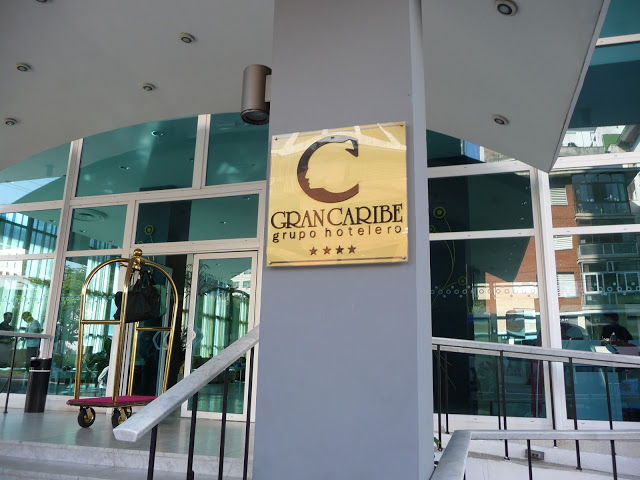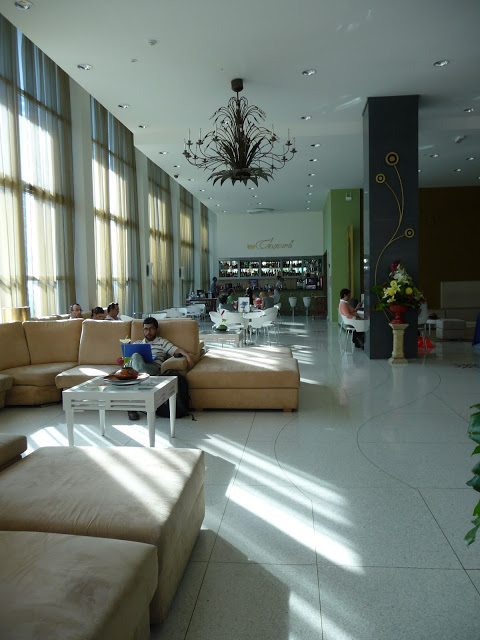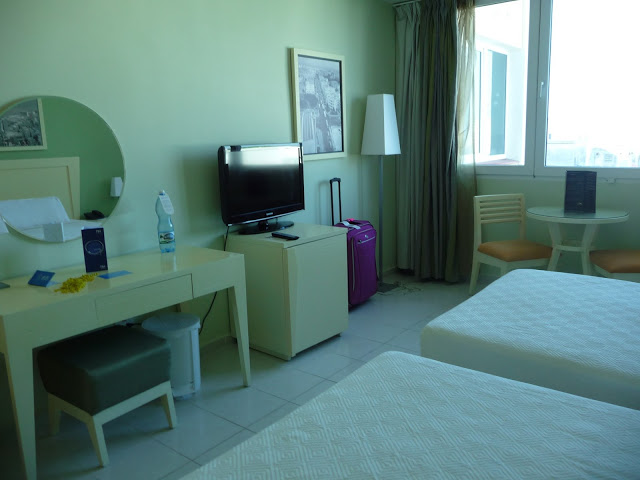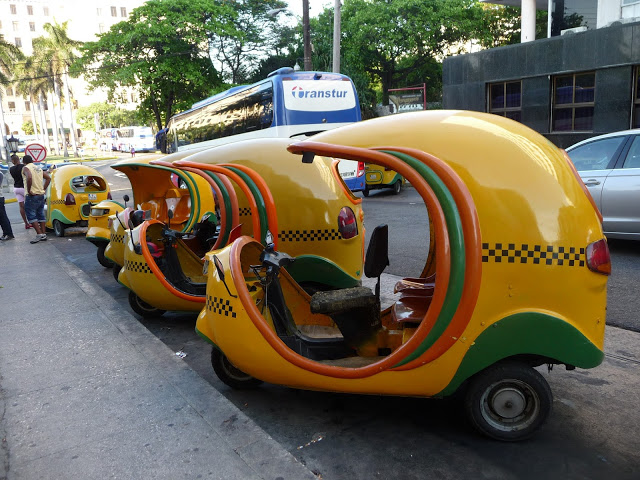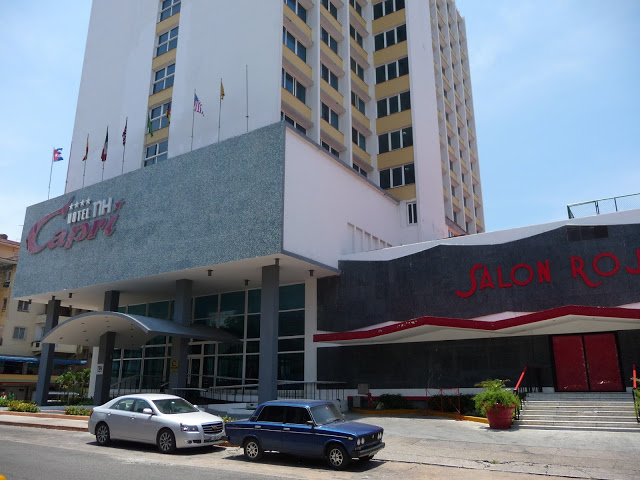 You 've seen plenty of iconic photos of Havana. Hemingway's place is a must for lifestyle inspiration.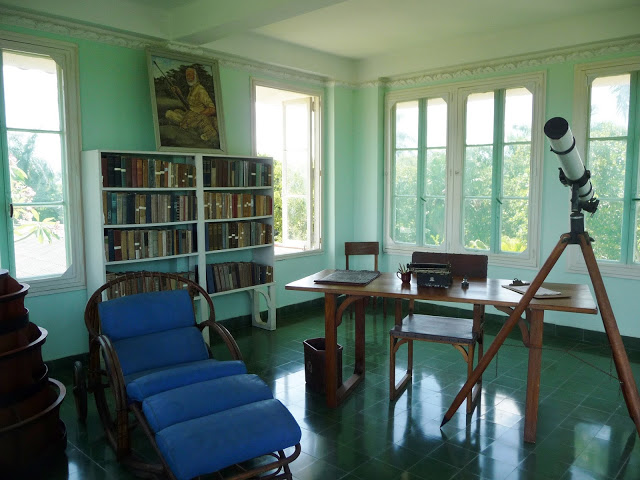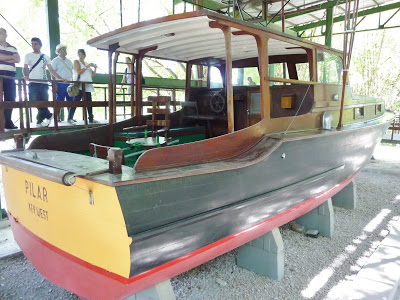 Don't miss the perfumery for your own bottle of personally blended scents (great for gifts) –
LAS TERRAZAS, CUBA
In keeping with the Medical Tourism idea, I suggest you visit, LOS TERRAZAS, a self-sustained, GMO-free, lifestyle that includes mineral waters.  For more:
http://www.independent.co.uk/travel/americas/cubas-green-revolution-how-las-terrazas-has-flourished-9882788.html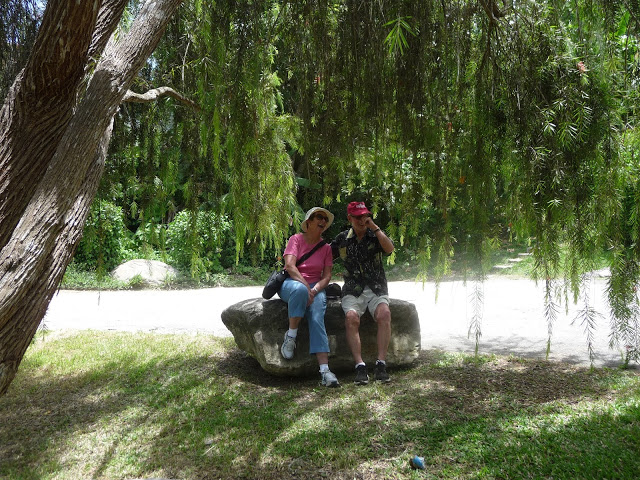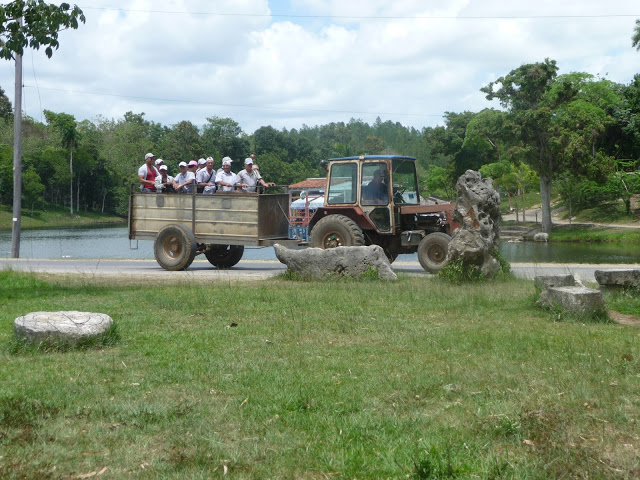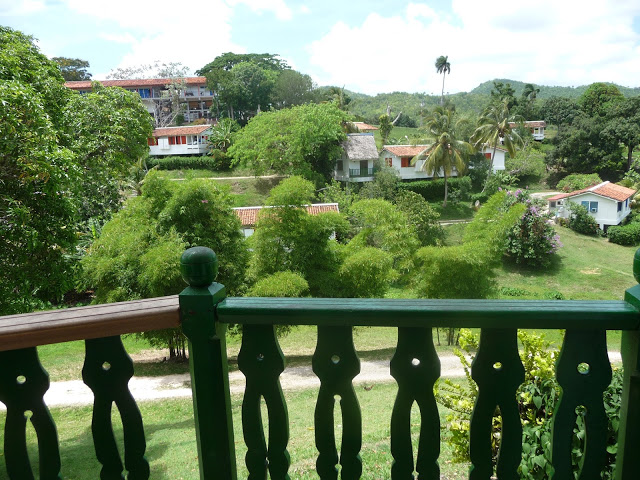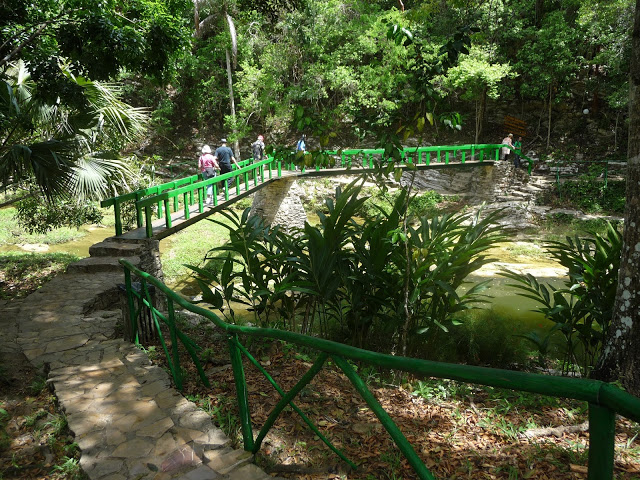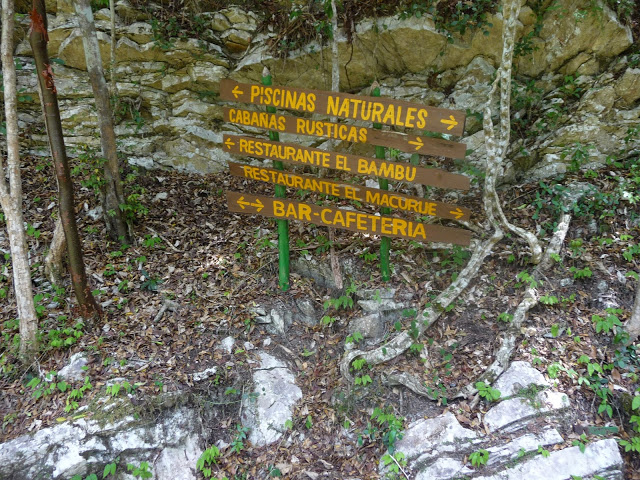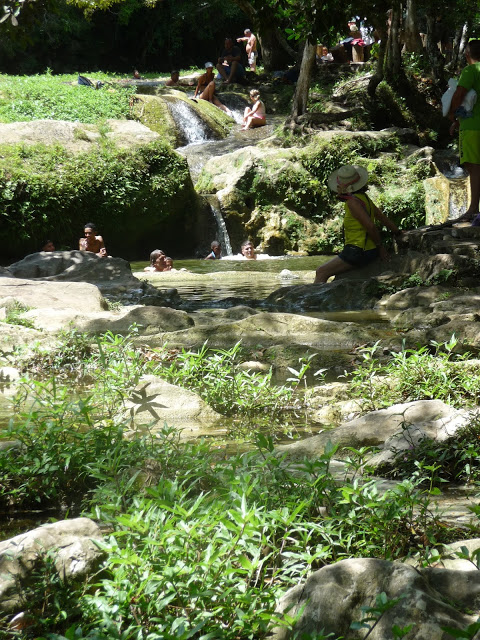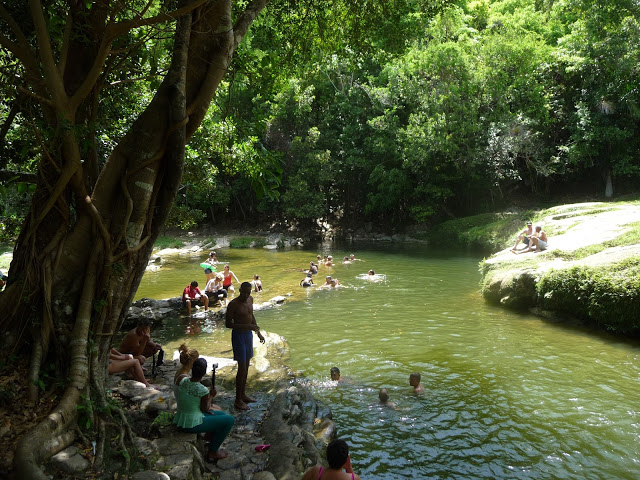 You can rent a bungalow as simple as this,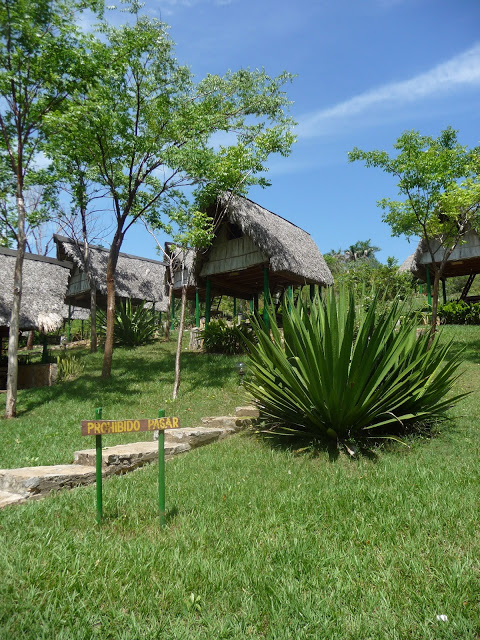 Or, on the Las Terrazas property at the Hotel MOKA:

http://www.hotelmoka-lasterrazas.com/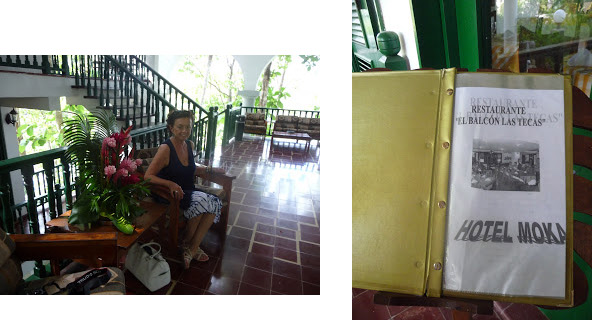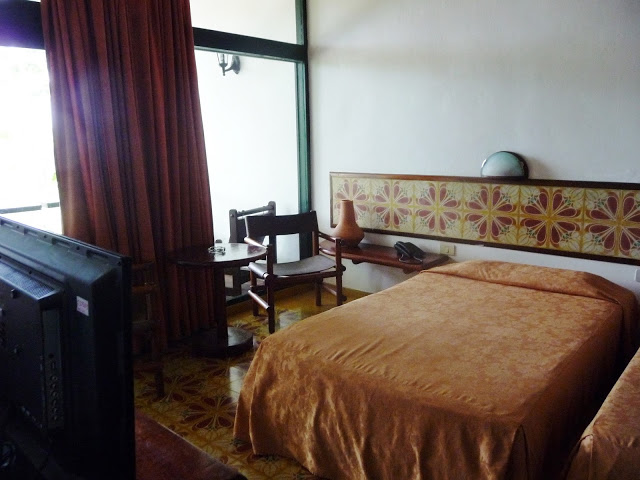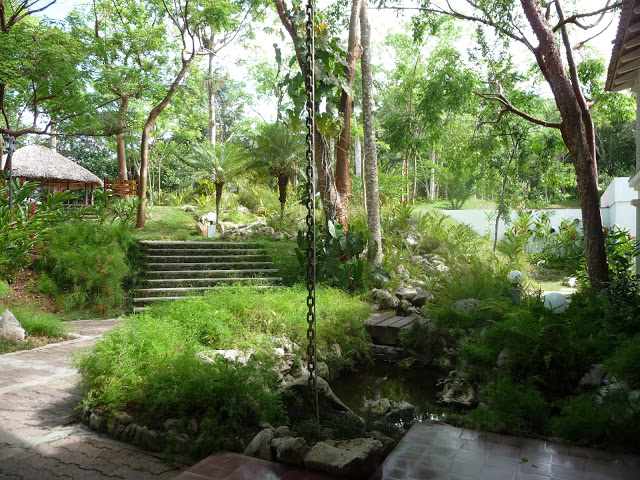 BACK IN HAVANA
Instead of making the scheduled move to the National Hotel, I decided to try a few days across the street at an immaculate Casa Particular – which turned out to be a brilliant idea. The Capri Hotel is just on the right.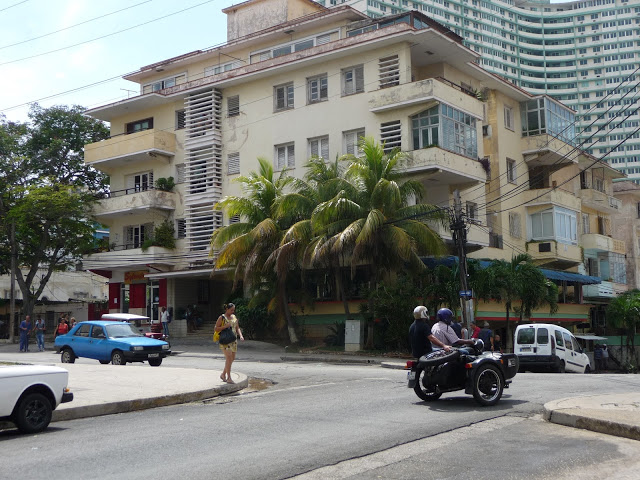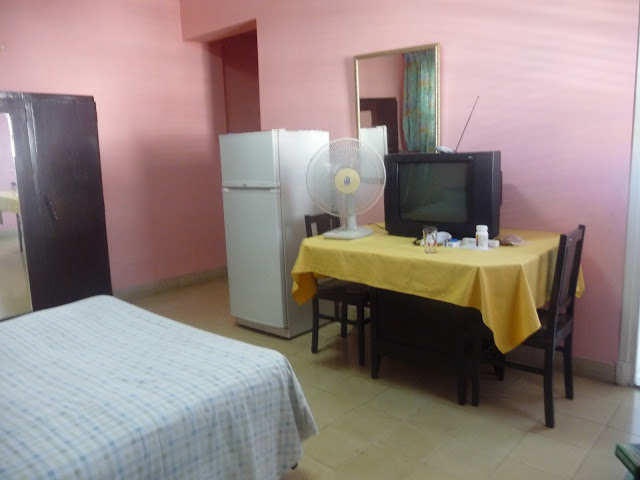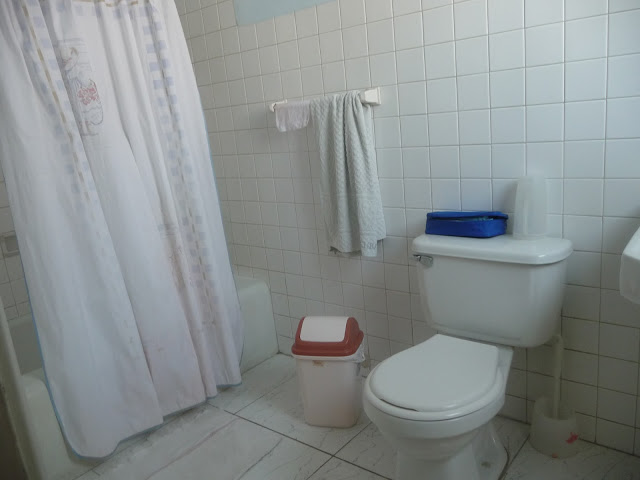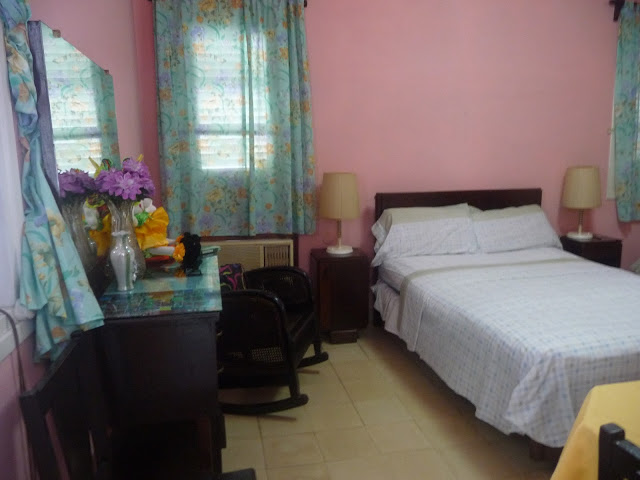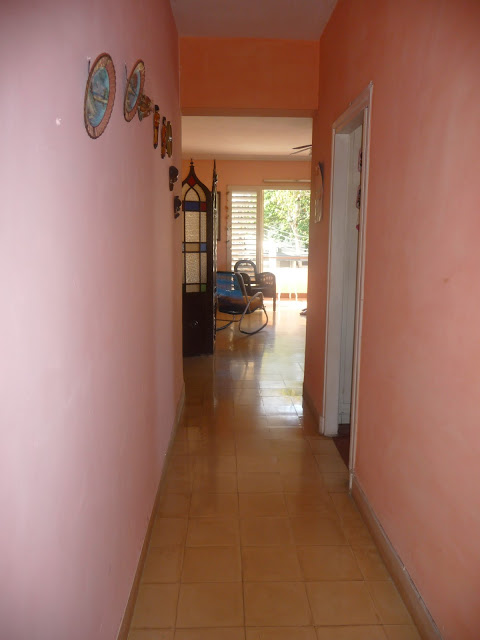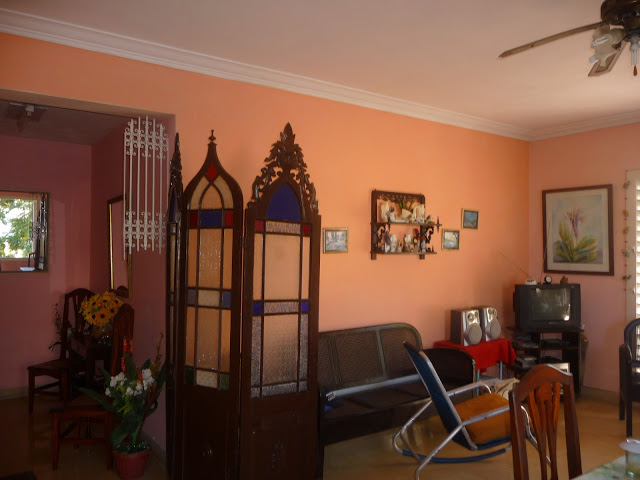 ---
SUNDAY AFTERNOON IN THE PARK  – THE HUNT FOR ICE CREAM
I went for a walk in the neighborhood, hoping to find the legendary ice cream truck, which never appeared.  It's true, what they say about Mangoes in Cuba;  more varieties, sweeter and better than I've ever tasted.

Couldn't help but notice and wonder about this giant tooth, prominently displayed in one of the parks I passed.  The only meaning I could find was the dedication to the artist.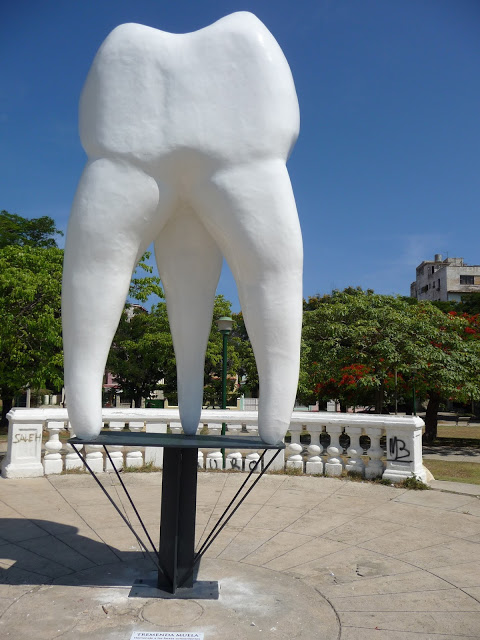 Came across Lennon Park, which I wasn't expecting. I stole the pix as a group of Canadians on tour paid extra for a shot with those famous glasses.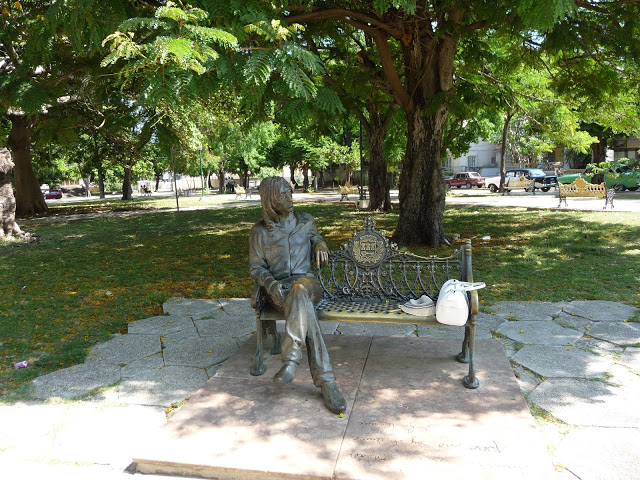 We took a 7-hour bus trip during the night to Camaguey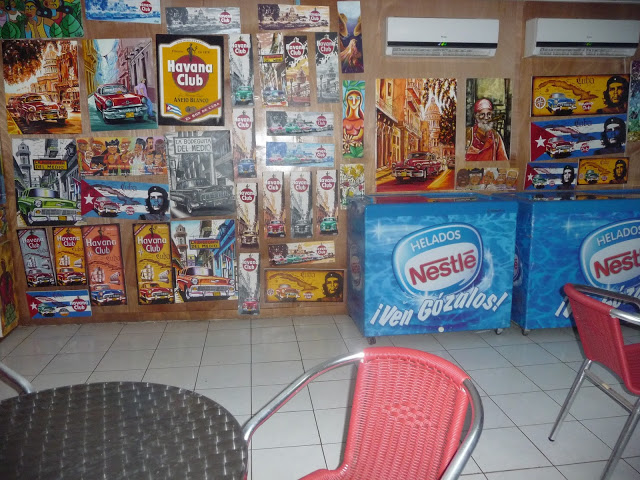 ---
As part of our cultural tour, I was invited to a Community Charity Event that started with an opening song: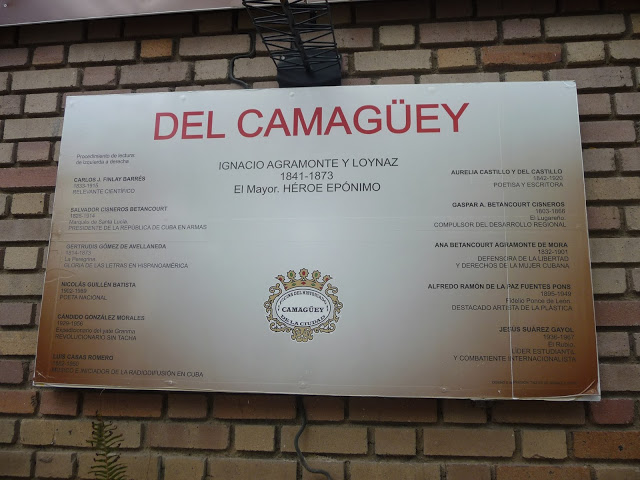 It was covered by the media for Cuban television.  I might add – complete.with beautiful, young hostess.  (Checkout the ancient camera.)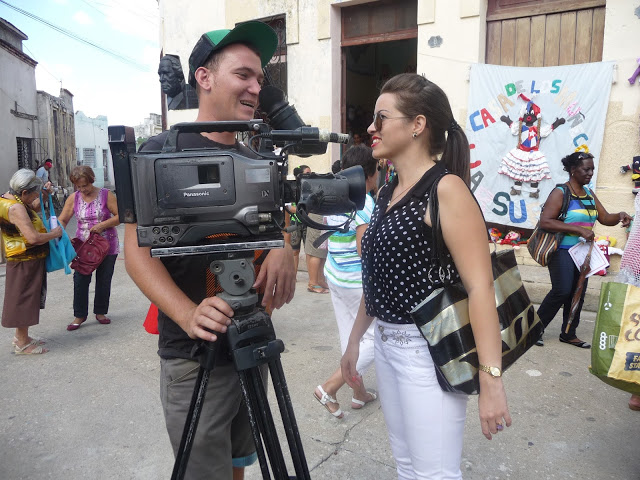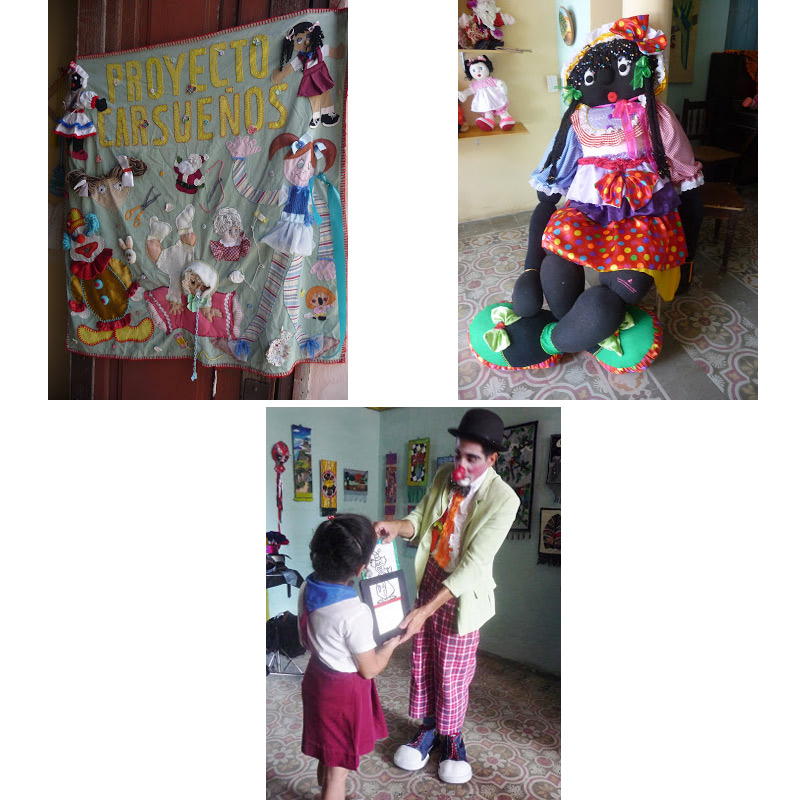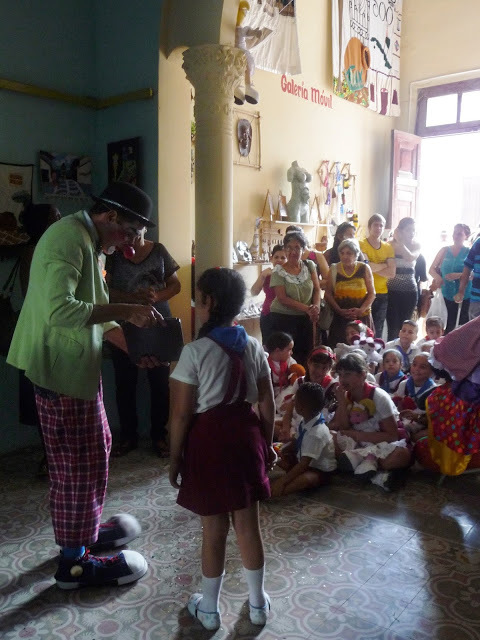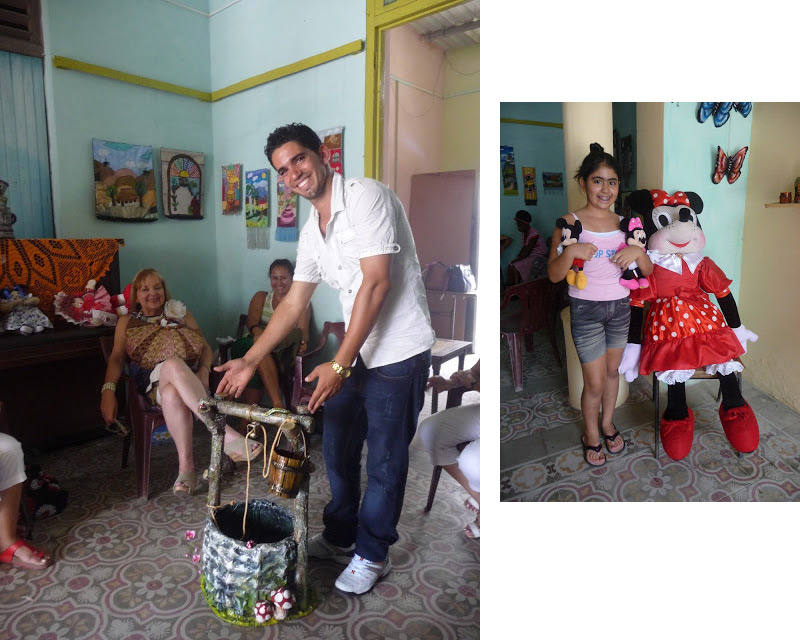 After the day-long celebration, I made a donation to the "Wishing Well" for a brighter future for the Cuban people.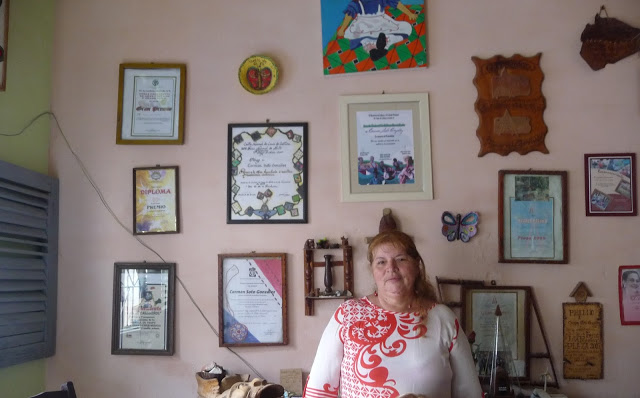 Marie Carmen  is the brains and back of this government approved project. She and her group of "Community Project" volunteers work with abused women and special needs children in Camaguey.
Their creative assortment of stuffed animals hand-made and for sale. Today, every child in attendance got to choose one to take home, free.
The Future
The plan is to return to Cuba on a small ship, or big private yacht so I can see all of Cuba from a different perspective – on the water. Next time, my story will be about CUBAN SPAS.
Meantime, I'll dream of all those luscious Cuban mangoes and pineapples, along with my morning cup of Cuban coffee, and that gorgeous Cuban Rum.
I cherish each and every encounter with the Cuban people, who have so deeply touched my heart.
Thank you for your hospitality and openness.  "I look forward to meeting some of you and seeing others again.  Like so many of you went out your way to say, I think there's a brighter future for us all – together.